This weekend, I went to a baby shower for my friends' second kiddo -they have picked a name, but won't announce it til he is born - and I get that. There aren't very many surprises left in this world.
The shower was in Hall County, GA - which is a good drive from Roswell. It took an hour each way, but the ride was pleasant. Cool, a little rain - pretty well perfect.
The couple that held the shower were nice - one of them was taking pictures for everyone in front of a backdrop of a woodland scene - complete with a stuffed campfire. Pretty cool.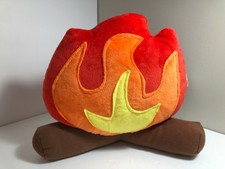 Perfect for summer!
About five minutes after I got there, I met a girl who I'd seen on their FB feed, and I said, "You're Carrie, right? I've seen you on Facebook." She quickly understood that I'm not a total stalker and we ended up sitting together at the shower, and now we're connected on Facebook! She lives and teaches in my husband's hometown. Small world, people.
The new baby got a ton of nice stuff - lots of diapers and clothes. I gave him a gown that his mothers registered for - plus some burp cloths. I got his sister a stuffed animal to coordinate with his gown - I think she digs it!
As I was falling asleep that night, I was thinking about how I have collected people in my life. How you start out slow, like a snowball, and as you roll, they collect and your snowball gets bigger and bigger. Not everything sticks, and that's OK!
It was kind of a neat thought, with a vivid visual. Suffice it to say, my life feels very full, and for that, I am grateful, and very lucky!
This month has really flown by. We'll be into September in a matter of days. We had a small, sweet taste of fall weather the other night, and I'm ready. So ready.
But for now, I need to regroup after two scattered, smothered weekends - no better way than with the upcoming 3 day weekend!!!
I'm feeling fairly exclamatory today - we'll let it go for now and come back to it soon.
ae